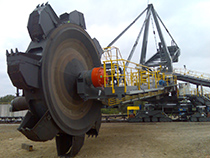 FAMUR India Mining Solutions Pvt. Ltd. is a wholly owned subsidiary of FAMUR S.A, - a company based in Poland. FAMUR is a world leader in the field of underground mining machinery and equipment, especially technologically advanced longwall systems with cutting edge performance parameters. Our equipments are manufactured under the Famur, Fazos, Glinik, Pioma, Nowomag, Remag, Georyt, Dams brands.
Through its acquisition of FAMAK, S.A & FUGO, S.A – renowned manufacturers in Europe for a wide range of Material handling & Mining machinery catering to Ports, Shipyards, Open Pit Mines, Power Plants, Steel Plants etc. in the domestic and foreign markets for over 70 years, FAMUR is all set to penetrate Indian & S.E Asean market in a big way.
The above two companies have been renamed as FAMUR FAMAK after taking over by FAMUR Group.
Both FAMAK & FUGO is well known name to Indian customers through their executions in various Ports, Power Plants, Steel/Aluminum Plants, Open pit mines like :
Transport crawlers in Neyveli Lignite Corporation
ELL cranes in Kandla Port
ELL cranes in Paradip Port
Wagon Tipplers in NTPC, RSP,Vedanta, Satpura, Ukai, Belllari,BHEL,ACC
Paddle Feeders in IISCO, WBPDCL, NTPC, Singareni, OPGCL
Stacker Reclaimers in BHEL, BTPS, Karnataka
We provide our customers with a full service in the field of technical consulting, equipment design and manufacturing, its assembly, commissioning and service.
We have at our command modern and fully-equipped manufacturing plants. We have the ability to manufacture technologically advanced equipment of the highest quality. Our R&D Centre develops and implements successfully the most advanced solutions. Our employees are highly qualified professionals.
Our Product range includes :
Systems and equipments for open cast and underground mining like :

Bucket wheel excavator
Spreader
Transport Crawler
Drive heads & Conveyor
Shearers, Crushers, Roof supports, Conveyors, Roadheaders, Driils, ransportation & Reloading machines, E-Mine solutions

Machinery and equipment for other industrial branches (power plants, ports, etc.) like :

Stacker Reclaimers ( Rail & Crawler mounted)
Rotary & Rotaside Wagon Tipplers
Paddle Feeders
Overhead Cranes
ELL Cranes
Rail mounted Container Gantry Cranes
Rail mounted Grab Unloaders

Steel structures for industry
Equipment for oil rigs, ships and other objects of the offshore market
Furthermore, our scope of activity includes the erection and construction of various machinery for shaft winder towers and coal preparation plants furnished with the most advanced technological lines, and the offer of services in the field of engineering.
Please visit the following websites for more details and reference list:

www.famur.com.pl
www.famak.com.pl
For further details and communication contact:

UNDERGROUND EQUIPMENT

sales@famur.com.pl

OPEN CAST & MATERIAL HANDLING EQUIPMENT

Mr. Atalanta Chakraborty, Director
M +91 9831760267 / 8607704967
E - atalanta.chakraborty@famur.co.in

Mr. Dipankar Bakshi
M +91 9830230918
T +91 9007000625
dipankar.bakshi@famur.co.in